A next-generation AI assistant for Data Entry , no matter the scale
Doc2txt is an AI engine that allows you to upload your documents and dive into the transformative capabilities of mobile document capture and OCR APIs for international data extraction.
Doc2Text offers businesses an unmatched solution that blends advanced document processing and data entry services with superior contextual understanding and insightful analysis
We empowers businesses to not just automate their data entry process but also use their data as a strategic asset for innovation and growth.
Collect data for computer vision annotation with Doc2Txt Suite. Use  automated collection capabilities to gather high quality training data. Control and secure all data collection. Enable continuous data collection to further improve your AI models.
Annotate document data with Doc2Txt Suite. Bring teams together to create high-quality datasets using a complete palette of automated and semi-automated labeling tools. Your data never leaves your workspace, keep everything safe and stay in control.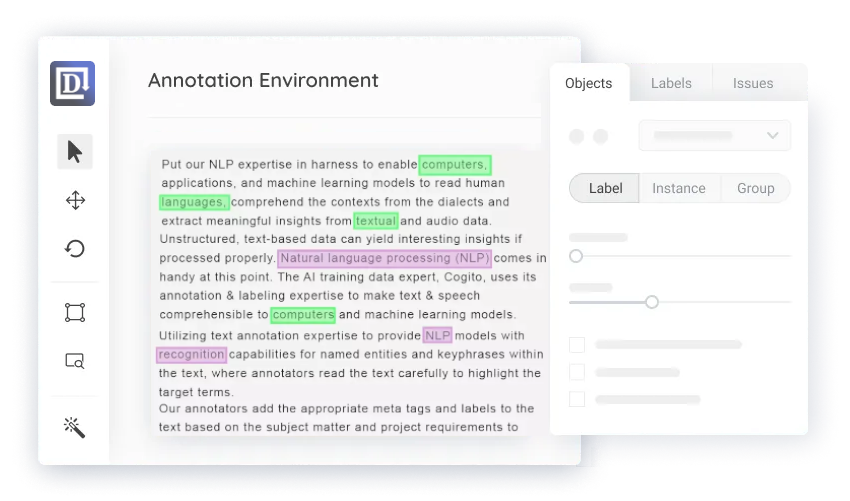 Manage AI models of all frameworks in one place. Make them available to be used in applications. Import AI models by choosing from pre-trained deep learning models. Train custom AI models in modular environments. Continuously improve your AI models.
Build high-performance computer vision pipelines with an intuitive no-code editor. Wire together modular building blocks that represent cameras, AI models, image processing functions, and processing hardware. Integrate your existing systems and manage versions. Future-proof your computer vision applications.
Deploy computer vision applications at scale. Doc2Txt Suite provides a complete device management. Enroll and manage a fleet of devices safely, without coding or manual installation. Release applications with a fully automated deployment manager to multiple environments. Now you can ensure your applications scale.
Monitor events and metrics in the cloud. Doc2Txt Suite provides real-time analytics with time-series databases. Monitor detailed hardware metrics at device level. Build custom BI dashboards and reports with ready-made charts. Explore and drill-down data, and build custom queries. Use data connectors to integrate your BI systems.
Maintain all applications and ensure continuous delivery at scale. Implement a  fast and agile development, update, and upkeep strategy. Detect issues early with capable diagnosis tools, system alerts, and automated health scans. Resolve issues with tools for remote troubleshooting and disaster recovery.
Doc2Txt Suite provides enterprise-grade security for the entire computer vision lifecycle. Unify user authorization and authentication across all systems. Protect your AI models and applications from theft and loss. Run automated dependency and vulnerability scans. Enforce highest security encryption and lock down Edge endpoints.
Doc2txt's skills can be combined to simplify even the most complex tasks
Process mountains of text
Doc2txt can analyse a variety of documents in a dialogue. Provide details on the document and FAQ for common questions, and Doc2txt will engage in relevant, naturalistic back-and-forth conversation.
Have natural conversations
Doc2txt can handle a variety of basic instructions and logical scenarios, including formatting outputs as desired, following if-then statements, and making a series of logical evaluations in a single prompt.
Whether you're dealing with documents, emails, FAQs, chat transcripts, records, or something else, Doc2txt is here to help. Doc2txt can edit, rewrite, summarize, classify, extract structured data, do Q&A based on the content, and more.
Doc2txt has extensive general knowledge honed from its vast training corpus, with detailed background on technical, scientific, and cultural knowledge, in a variety of common languages.
Process your docs in less time than it takes to read this.
Seamlessly implement line-level policies in your expense app, streamline bill payments with level 3 data, breath AI into your ERP and unlock a new era of efficiency and accuracy.
Level up your loyalty app with long receipt capture, real-time validation (no more clearing houses), and fraud detection. Gain consumer trust, unlock shopping behavior insights, and stay ahead in the game!
Empower your AP/Finance team by eliminating manual data entry. Seamlessly integrate with RPA to automate document functions and unlock the full potential of your team.
Add Doc2txt.com to your team
Try Doc2txt and see how AI can add value to your team today.